Introduction – World COPD Day is observed on November 17 in the year 2021 to spread awareness about COPD disease all around the world.
About COPD – It stands for Chronic Obstructive Pulmonary Disease and occurs if there is an obstruction to the airflow from the lungs. It is a chronic disease that is characterized by airflow obstruction. If any individual is suffering from COPD, then it may increase the risk of getting diagnosed with lung cancer, heart diseases, and many more problems. Due to appropriate treatment and proper management, an individual may lower the risk of COPD and other associated diseases.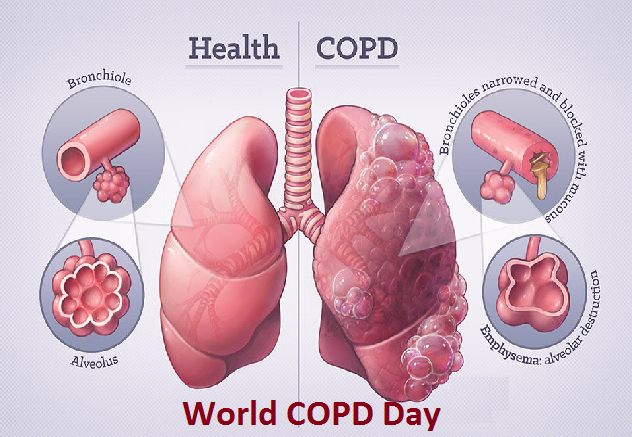 Causes of COPD – Smoking cigarette is the major leading cause of COPD disease. Most of the people are suffering from this disease at the age of 40 or above with a history of smoking. Genetic factors and other irritants are also responsible for COPD.
Symptoms of COPD – There are several symptoms of COPD are given below –
Coughing
Chest tightening
Wheezing
Difficulty in breathing
Making an additional amount of mucus (phlegm)
Common respiratory infections including flu and cold
Risk factors of COPD – There are several risk factors of COPD are given below –
Genetics or family history
Asthma
Smoking tobacco
Household air pollution
Work in polluted areas that are composed of several chemicals and dust
History – Global Initiative for Chronic Obstructive Lung Disease (GOLD) with the collaboration of health care professionals and several COPD patient groups organized this international day all around the world. Firstly, this international day is celebrated in the year 2002. On this day, some organizations organize several activities in more than 50 countries. The main aim of the global day is to lower the problem of COPD globally and spread awareness about the COPD disease.
Theme – The theme of World COPD Day in the year 2021 is ''Healthy Lungs – Never More Important'' which highlights the problem of this disease worldwide. During the Covid epidemic, COPD is the leading cause of death all around the world.