Introduction – World Photography Day is celebrated on August 19 every year all over the world. The main purpose of this day is to motivate more and more photographers either experts or amateurs for discussing about the art of taking impressive photos. World Photography Day is the way for recognizing the skill and passion of a photographer that uses their perception and creativity to capture beautiful photos. This day provides an opportunity to celebrate creativity in the field of photography. Now, most people use smartphones to take photographs with advanced technology.
History – World Photography Day honors the day in the year 1839 when the French government bought the patent for the Daguerreotype that introduced the process as a gift to the world. There were two Frenchmen named Louis Daguerre and Joseph Nicephore Niepce were developed the first-ever photographic process by inventing the ''daguerreotype''. The invention of the daguerreotype on January 19, 1837, was officially declared by the French Academy of Sciences. It is believed that the French Government purchased the patent for the invention that offered it as a gift worldwide with no copyright on August 19, 1839.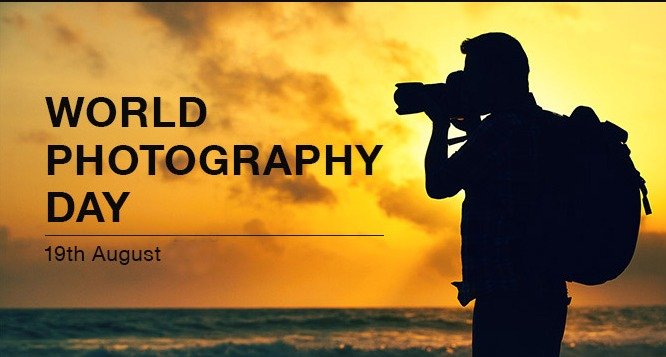 Significance – World Photography Day is celebrated with the passion of fashion photographers, wildlife photography. and photojournalists. On this day, they come together for spreading awareness and sharing ideas about the art of taking photographs. Photography plays an important role in our life with memorable photos of marriage, birthdays, trips, celebrations, family gatherings, and many more. Earlier taking photos is very difficult and is capable only expert photographers with a big camera. Now, photography is very simple by using smartphones all around the world. Anybody captures photos with the help of mobiles in any event. At present, several people worked as professional photographers use the skill of photography as a profession in any marriage ceremony, parties, and many more to earn money.
Theme – In the year 2020, the theme of World Photography Day was ''Pandemic Lockdown through the lens''. In the year 2019, the theme of World Photography Day was ''Dedicated to History''. In past years, there were two themes of this day are ''Be Nice'', and ''Understanding Clouds'' were the themes of World Photography Day in the years 2017 and 2018.