Acidic gases in the air – These gases which combine with water to form acids are called acidic gases. There are some of the acidic gases are nitrogen dioxide and sulphur dioxide. The sulphur dioxide gas is present as a polluted air forms sulphuric acid whereas the nitrogen dioxide gas is found in a polluted air forms the nitric acid.
Acid rain – When the acids formed from sulphur dioxide and nitrogen dioxide present in the air dissolve in rainwater and fall on the earth is called acid rain due to the presence of acids in it, the rainwater becomes slightly acidic.
Effect of acidic gases on historical monuments – The historical monuments are usually made up of marble stone which is actually ''calcium carbonate''. These acidic gases such as sulphur dioxide and nitrogen dioxide are present in the polluted air that produce acid rain. When this acid rain falls on a historical monument then the acid in the rainwater reacts chemically with the marble (calcium carbonate) of the historical monument and damages slowly. Since the acid present in acid rain react with marble and corrodes it slowly. Thus, the Taj Mahal monument is made up of marble is also getting damaged slowly. The slow chemical reactions of the acid rain damage the marble stone of historical buildings.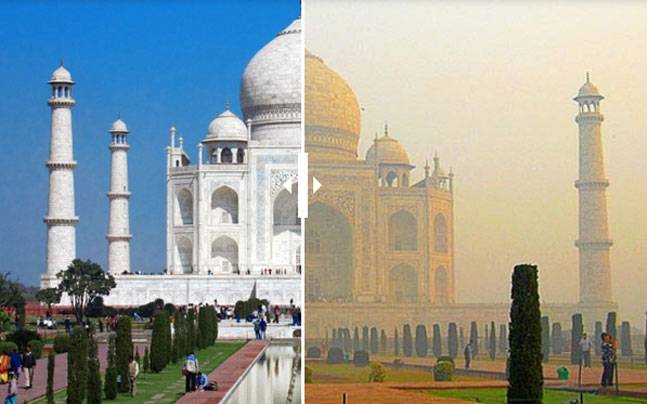 It is clear that the two main acidic gases which damage the historical monuments are sulphur dioxide and nitrogen dioxide. Acid rain effects on the historical monuments as well as also damage the new buildings that are also made up of marble. Cement also reacts with acid rain that dissolves in the acid. Acid rain also damages the concrete buildings in heavily polluted cities such as Agra, Taj Mahal. The acid rain also affects the popular monument in the world, the Taj Mahal that causes white marble to turn into yellow.