Goa – Goa is one of the famous tourist places and is placed in Konkan within the coastal region in India. It is a smallest state by area and the fourth smallest based on population. Panaji is the capital and Vasco da Gama is the main city in Goa. Goa is also popular for honeymoon couple.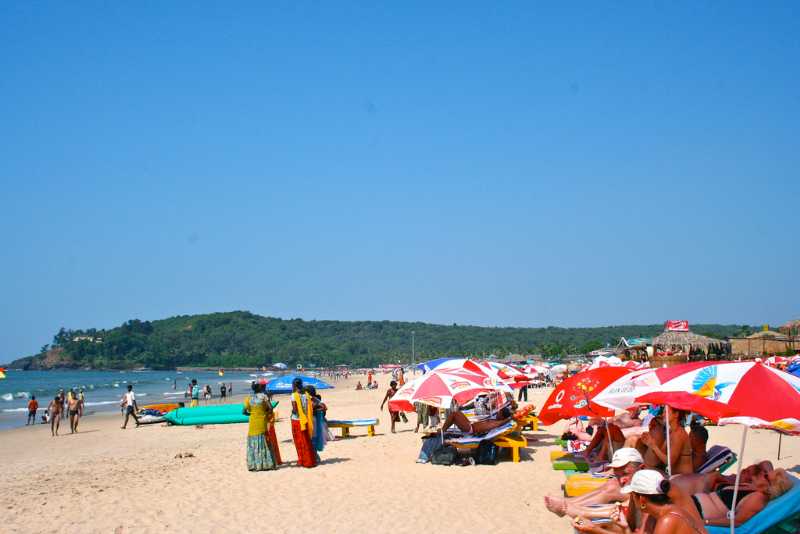 A large numbers of local and foreign tourists visits per year for famous beautiful beaches, worship place and world heritage architecture.
There are some tourist attractions which are discussed below
Calangute – It is one of the famous beaches in Goa and the main beach in North Goa. This beach is popular for foreign and local tourists. Throughout a busy season, the beach is flooded of foreign and Indian tourists. There are some restaurants in Goa for refreshment and also a market for shopping. In this place, the remarkable view of the sea with some tasty snacks in restaurants. Tourists also enjoy with sports on beach.
If tourist visit Goa for vacations then must visited Calangute beach which is popularly known as 'queen of beaches'.
Fort Aguada – This fort was built by Portuguese in 17th century due to the safety from Dutch and Marathas. It is placed at the Sinquerim Beach in North Goa. Inside the fort, there were 13-metre lighthouse which is constructed in 1864 and a vaulted cistern that is capable of storing the ten million liters of fresh water. There are some buildings that have been hanged into a jail and become to be the largest jail in Goa.
Chapora Fort – This fort become popular place when some shooting parts in the movie "Dil Chahta Hai". It is placed across the Chapora River so its name is Chapora fort. The fort was constructed in 1717.
Pandava Caves and Arvalem Waterfall – In a Arvalem waterfall, the water flowing at a height of 50mts makes a remarkable view in a neighboring park. There is another tourist spot which is near to Arvalem waterfall is Pandava caves which is approximately 9Km from waterfall.
                                               Pandava Caves
In Pandava caves, the cave is divided into 5 sections and the 'linga' preserved in the middle section where devotees worships. The Pandava caves are also known as Arvalem caves.
                                                                        Arvalem Waterfall
Dudhsagar falls – It is the fourth highest waterfall in India and is situated and is about 46km from Madagaon. This falls appear during heavy rains in monsoon. The waterfall is nearly passes the railway bridge so passengers of train watches the awesome view of the waterfall.
Ashwem & Arossim Beach – Ashwem beach is situated in North Goa which is about 27 miles from Anjuna beach. This beach is clean, peaceful, less crowded and felling relaxed in the beach. There are several restaurants and hotels across the beach for refreshment.
                                         Ashwem Beach
Arossim is another beach in Goa and situated is about 12kmfrom Margao. This beach is also peaceful, awesome views and popular for beach shacks are "The Star Fish" shack and "The Venus" beach shack. Both foreign and Indian foods are available in the beach.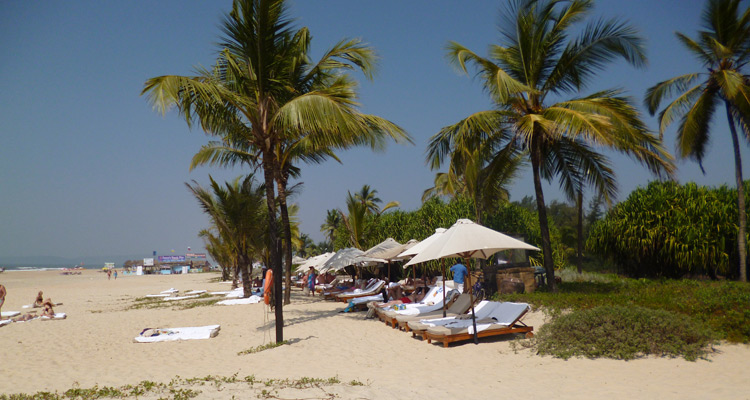 Arossim Beach
Mollem National Park – It is situated in the Western Ghats along with eastern Goa border with Karnataka. The Mollem National park is spread over 240 sq km and has some animals including wild cats, a different variety of birds, several kinds of snakes and many variety of butterflies.
In the park area, there are several trekking trails and a Tambdi Surla mahadev temple. This temple is built in 12th century which is related to Kadamba Dynasty.
Reis Magos Fort – It is the ancient fort in Goa and recently used as a viceroy's house and afterwards change into a fortress. The Reis magos Fort is bounded by strong and distinctive reddish laterite walls and studded with Portugese watchtowers. There are some amazing views in the fort and also a Reis Magos Church lies at a short distance.