At present, LTE and VoLTE are popular as the increasing the use of mobile internet. When Reliance launched the Jio, increases in the using of mobile internet due to the popularity of 4G internet which is very inexpensive. The cheap cost of 4G internet increases the use of mobile internet and as we know LTE and VoLTE. First of all understand what is LTE and VoLTE and then discuss the difference between LTE and VoLTE.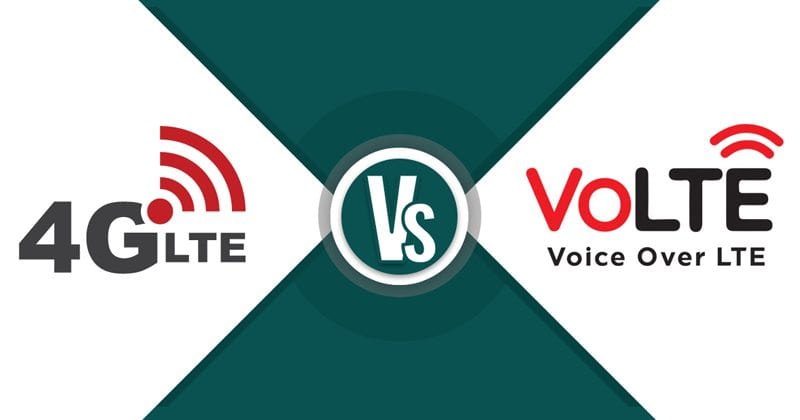 LTE – LTE stands for Long Term Evolution which is a technology of mobile internet. LTE is popular when the Fourth generation (4G) is launched, is a high-speed wireless communication for smartphones and data terminals which is based on the technologies of GSM/EDGE and UMTS/HSPA. It is rapidly available for mobile internet in all over the world. At present, internet providers are converted the 3G network into 4G network which is up gradation. The download speed of LTE is 100 M Bits per second and upload speed is 50M Bits per second. In advance LTE, the download speed is 1G Bits per second and upload speed is 500M Bits per second.
VoLTE – It stands for Voice over Long-Term Evolution. VoLTE is also popular when the 4G Mobile and Jio launched.  VoLTE is a technology in which it can concurrently send voice and data over the network without reducing the quality of voice It is based on the IMS (IP Multimedia Subsystem) network in which to control and media planes of voice service over LTE. It is also a fast speed wireless communication for mobile devices. In VoLTE, there is about three times voice and capacity of data than 3G UMTS and six times to 2G GSM.
Difference between VoLTE and LTE – There is some differences between VoLTE and LTE are discussed below
LTE stands for Long Term Evolution whereas VoLTE stands for Voice over Long Term Evolution.
The LTE is mainly designed for only data technology whereas VoLTE is made for both voice and data.
LTE does not support voice transmission while VoLTE supports both voice and data transmission.
In the case of LTE, the quality of voice decreases if data connection is not active. In VoLTE, the quality of voice still superb while if the data connection is on.
Set up a call in LTE is slow as compared to VoLTE.
Advantages of VoLTE as compared to LTE – There are several benefits of VoLTE in comparison to LTE are given as
The quality of voice in VoLTE is better than LTE.
The call connection in VoLTE is faster than LTE.
VoLTE is also used in save the battery of mobile.
VoLTE allows users for making a video calls with no use of any third party apps.
These were the basic concept of LTE and VoLTE.