Paneer – Paneer is very popular dishes in parties, marriage ceremonies, and other functions. There are several varieties in paneer such as shahi paneer, chilli paneer, paneer do pyaza and many more. Paneer is a milk product and an important diet for human. It is prepared by adding acid in the milk, such as lemon juice, vinegar, citric acid or yogurt, for separate the curds from the whey. Paneer contain calcium, phosphorus, vitamins and protein that are necessary for our body.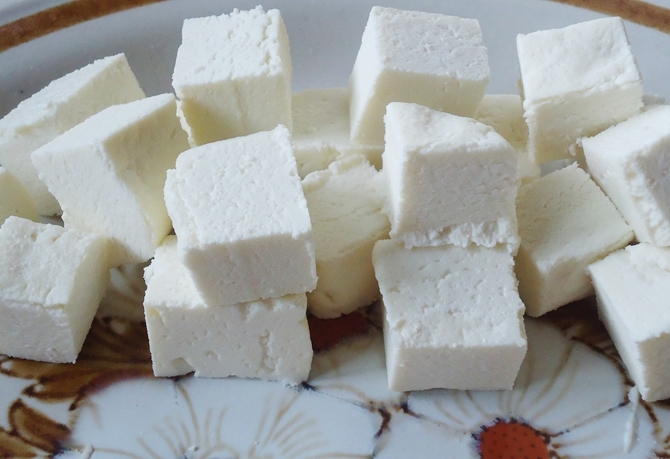 Health benefits of paneer – There are several benefits of paneer are as given below
Strong bone and teeth – Paneer is rich in protein, calcium and potassium which are useful in making strong teeth and bones.
Cure bone and teeth diseases – The paneer is helpful in treat several bone diseases such as osteoporosis, joints pain and also tooth diseases such as tooth decay and gums problems.
Prevent Rheumatoid Arthritis – Paneer contain Omega-3 Fatty Acids and Omega-6 Fatty Acids which are benefits in preventing rheumatoid arthritis.
Weight loss – Paneer are beneficial in decrease in weight due to it is rich in protein which has monounsaturated and polyunsaturated fat. It has also rich in dietary fibers which are beneficial in digestion through improving the metabolism therefore it helps in decreasing the weight.
Fight cancer – Paneer has conjugated linoleic acid and sphingolipids which lowers the risk of cancer. It also rich in protein which decreases the risk of several cancers such as stomach cancer, breast cancer, and colon cancer.
Lower blood pressure – It contain potassium which are helpful in reduce the blood pressure or hypertension.
Beneficial in Type–2 Diabetes – It is helpful in lower the risk of type-2 diabetes which prevent several diseases due to cause by high type-2 diabetes.
Lower the risk of heart diseases – The protein is helpful in reduce blood pressure, keeping the lipid profiles which are beneficial in heart diseases.
Improves immune system – It improves the immune system and haemoglobin count that reduce the risk of several diseases in kids such as  cough, cold, bronchial asthma etc.
Cure Prostate Cancer – The daily consumption of paneer which is used in lower the risk of prostate cancer.
Healthy hair and skin – The protein is rich in vitamin B, protein, omega-3 fatty acids, omega-6 fatty acids and antioxidants which maintain hair and skin healthy, glowing and refresh.