Introduction – World Brain Tumor Day will be celebrated on June 8 every year. The purpose of this day is to educate people and raise awareness about brain tumors. This day is also to pay tribute to the patients who are suffering from brain tumors and their families, scientists, health professionals, and caregivers.
Brain Tumor – It is one of the dangerous diseases and occurs when cells grow at an abnormal rate to form a mass of abnormal cells within the brain. A brain tumor may be a life-threatening disease for people but it can treatable completely. A brain tumor is divided into two types such as cancerous (malignant) tumors, and benign (non-cancerous) tumors.
The symptoms of a brain tumor are depending upon the location and size of the tumor in the body. Several tumors affect the brain directly but the major symptoms of brain tumor such as
Blurred vision
Vomiting caused by headache
Change in mental functioning
Sexual dysfunction
Steroid treatment
Hormonal change or imbalance
Severe headache
There are several treatments is depending on the position, size, and type of brain tumor are as given below –
Radiotherapy
Steroids
Chemotherapy
Surgery
Anti-seizure medication
During the treatment of brain tumors, patients need strong moral or emotional supports from their families and close friends. This support plays an important role in a positive attitude for healing.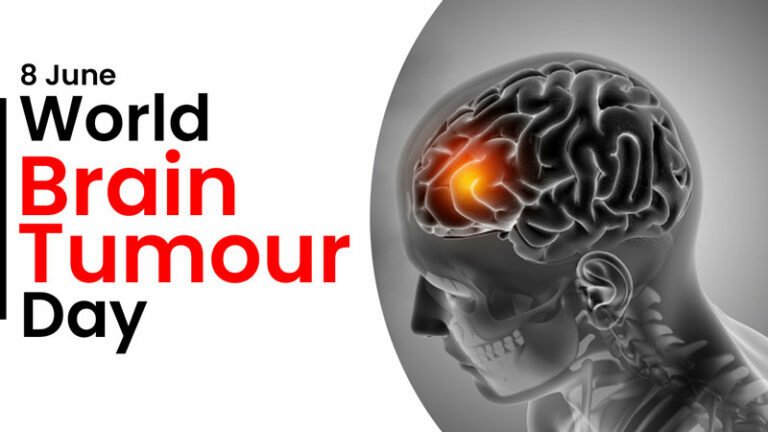 History -German Brain Tumor Association declared that World Brain Tumor Day will be celebrated on June 8 every year in the year 2000. World Brain Tumor Day was declared as a global event for paying tribute to the patients of brain tumors with their loved ones all over the world. The main purpose of the German Brain Tumor Association is to search for the treatment of brain tumors,  supports science and research especially in the field of neuro-oncology.