Introduction – World Food Safety Day will be celebrated on June 7 promotes awareness about foodborne diseases that help in preventing managing and detecting untoward diseases and contributing to sustainable human development by proper food security.  On this day, it encourages the message of food safety among people and lowers the burden of foodborne diseases all over the world. According to the WHO posted on the website, Food safety is a shared responsibility between producers, governments, and consumers. Each and everyone ensure that the food is safe and healthy for people.
The theme is ''Safe food today for a healthy tomorrow'' one World Food Safety Day. In this theme, the World Health Organization (WHO) promotes the production and production of safe food that have immediate with long-term benefits for the economy, the planet, and people.
There is no proof that recommends the transmission of Covid-19 is linked to food. Centers for Disease Control and Prevention (CDC) proposes that proper food safety protocol is followed in general. It includes washing your hand with water and soap regularly for 20 seconds before preparing or eating the food. We should also maintain strict checks on the possibility of contamination of food products during packaging or storage. Some precautions are also taken for food safety by preventing contamination by viruses, chemical substances, viruses, and bacteria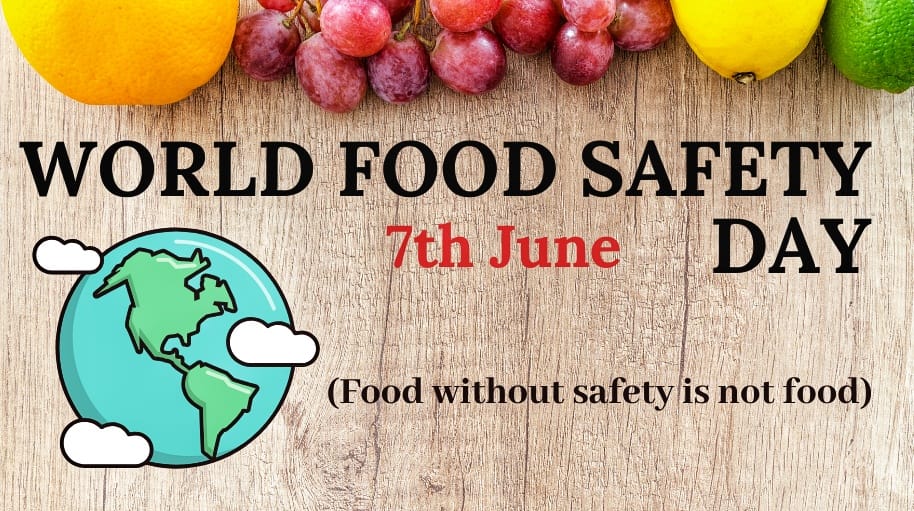 History -The United Nations General Assembly (UNGA) announced that World Food Safety Day will be celebrated on June 7 every year on December 20, 2018. Previous year, the World Health Assembly (WHA) passed a resolution on August 5, 2020, declaring the World Food Safety Day will be celebrated on June 7. This day further strengthen efforts globally of food safety for reducing the burden of foodborne diseases.