Ghee –
Ghee contains source of saturated fats which can deliver minerals, vitamins and other nutrients to our body and essential for good health.
It is very commonly used in cooking the food and also served in lunch and dinner. The ghee is prepared from the milk. The good quality of the ghee which is depends upon the quality of the milk. It contains Vitamin A,D,E, and K. Ghee is useful in increasing your weight, prosperity and strength. As per research, it has Conjugated linoleic acid (CLA) which is benefit for overweight people and useful in improving immunity. It has no salt or sugar and also lactose-free..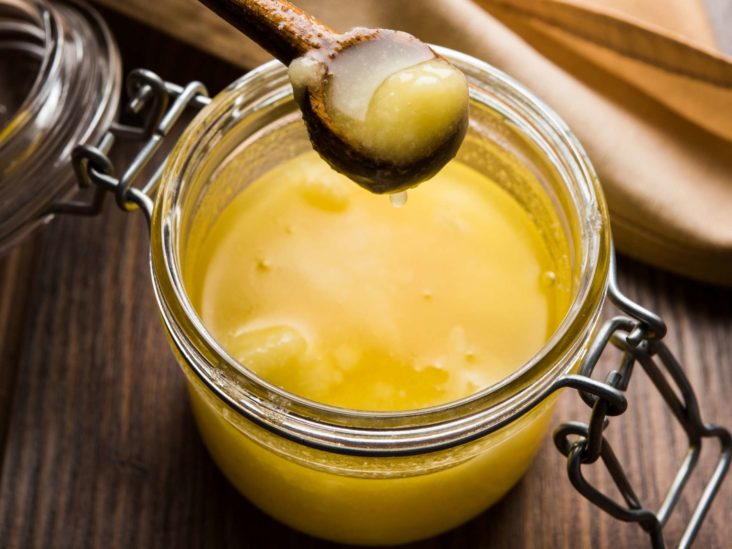 Ghee become the great ingredient for those dishes which involve sauteing and frying on high heat. it is known for the great source of essential nutrients and making in delicious dishes or also in sweet dishes.
Health Benefits of Ghee – There are several advantages of ghee which is discussed below
Daily consumption of ghee increases the mental and physical health which keeps the healthy body.
Ghee contains rich in omega 3 fatty acids which is beneficial for lowering inflammation, brain development, slowing down aging process and many more.
It contain great source of fat soluble vitamins such as vitamins (A, K2,E and D). These vitamins are beneficial in good vision, improving immunity, and good antioxidant effects.
It has a great source of minerals and vitamins which repair and regulate the  gut lining and is important for brain health.
Ghee helps in keep warm during winter that why it is extensively used in  moong dal halwa, and gajar ka halwa which mostly prepared in winter.
It improves the eyesight and also retains the tendons and muscles healthy.
It is essential for keep the body healthy and also used in gaining the weight.
Ghee is used without refrigeration due to it does not spoil easily.
Ghee also has conjugated linoleic acid (CLA) which lowers the tumors in our body, improve or control blood pressure,  and reduces the cholesterol in blood
The pure ghee contains less fat as compared to the butter which is a better option for high cholesterol people.
It is essential to body to for certain fats in the body which perform energetic functions such as strengthening cell membranes, protecting the stomach and preserve the nerve, brain, skin, and body healthy.
Vitamin E are found in ghee which provides powerful antioxidant and ghee is also popular for good skin and hair.
The ghee also serves for improving the taste of food.