About iCloud for PC – It is a cloud computing and cloud storage service for Apple Inc.  This type of service allows to the users for storing data such as photos, music and documents on remote servers to download Windows, iOS and macOS devices,  send and share data to other users, and to manage their Apple devices if lost or stolen.  iCloud was launched on October 12, 2011. In February 2016, this service had about 782 million users.
The users of the service also enjoy sharing music, games and photos directly by connecting accounts through AirDrop wireless.
How to Download and Install iCloud for PC – To download iCloud for Windows, first of all you need to set up iCloud on your Apple devices. Users can log in to iCloud with their Apple ID. The several steps in downloading and installing the iCloud in your Apple device  are given below-
First of all download iCloud for Windows. If the iCloud does not install automatically then, go to File Explorer and open iCloud Setup.
Now restart your computer.
You make sure that iCloud for Windows is open. If iCloud does not open automatically then go to Start, open Apps or Programs and finally open iCloud for Windows.
Now you can enter with your Apple ID to log in to iCloud.
After that, you can select the content and features which you want to keep up to date in your device.
Finally click for apply.
iCloud for PC file information – This service was launched on October 12, 2011. The users of this service in Feb 2016 was about 782 million based on macOS (10.7 Lion and Later) Operating System.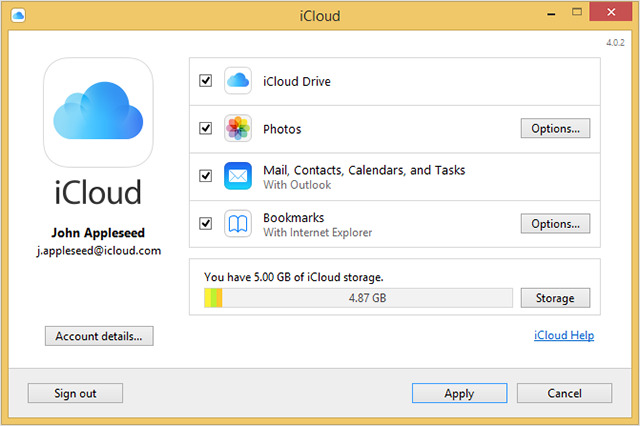 Features of iCloud for PC – The various features of iCloud for PC are given below –
Backup and restore – This service allows users for back up the settings and data on the iOS devices. It backs up several data such as videos, messages, and photos.
Search friends – This service can be used in sharing user's present location with their family members or friends. Apple launched an app for Find My Friends. It also added iOS 6 based on location and alerts to notify the user when a device moves to another location.
Back to My Mac – It is now a part of iCloud service and allows users to sign in remotely to other computers that have Back to My Mac app and are make up with the same Apple ID.
Email – The email account is an optional part of an iCloud account in which users can select to use a non-iCloud email address with their iCloud Apple ID. The email account in an iCloud can be accessed by using any standard IMAP-compatible email client through web browser at iCloud.com.
Search My iPhone – The service is used in tracking the location of their iOS device or Mac. User can see the location of the device on a map, display a message and play a sound on the device, change the password of the device, and remotely remove its contents.
Storage – User can manage iCloud storage by upgrading the storage plan or deleting certain data. If users want to make changes to their Apple ID, they can update their email, mailing address, or other account information.
iCloud Photo Library – It is an main feature of the iCloud which stores the photos of the users, preserve their original resolution and metadata. Users can also access their iCloud Photo Library on the supported devices through the new Photos app when available or through the iCloud Photo Library web app at iCloud.com
Conclusions – iCloud for Windows can create iCloud Photos folder which is placed in File Explorer. iCloud Photos upload new photos and videos in which user can add to the iCloud Photos Uploads folder on the PC so user can view them in the Photos app on the iPhone, iPad, iPod touch, and Mac, and on iCloud.com. New photos and videos you can automatically download from iCloud Photos and user can select to download the entire collection in a year.