Eid-ul-Fitr is one of the most important festivals which is celebrated in all over the world by Muslims.  It is celebrated on the first day of the Islamic month of Shawwal after moon sighting on the 29th or 30th day  of Ramadan. Muslims are not allowed to fast on this day of Eid. This festival is the thanks giving day to God after successful completion of fasting in the month of Ramadan.
Eid is a Arabic word literally means festival or feast. Similarly Fitr is also Arabic word meaning breaking of fast just like Iftar at the month of Ramadan. Islam encourages social gatherings in the form of Salaat (Namaz) such as five times in daily prayer (namaz) for that area where live, Friday prayer (namaz)) for local people, Eid Namaz for whole area. It is the system to meet people in your town for knowing the welfare of the people in that area.
The Muslims keep fast for full one month after seeing the "Ramadan moon". After the completion of the month they once again see moon of Eid and finish their fasts. On the second day when the fasts are over, they celebrate Eid festival with great happiness and excitement with the family and friends.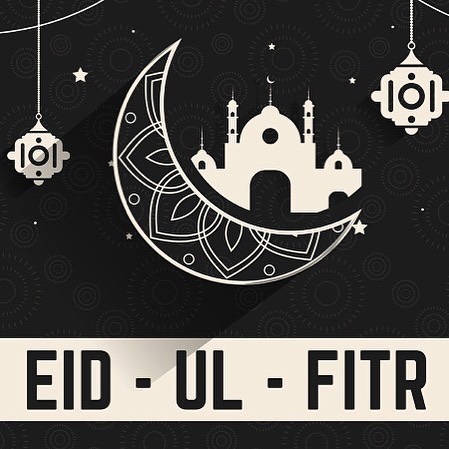 On the day of Eid-ul Fitr, Muslims take bath early in the morning and wear new or good dresses with applying perfumes and gather for special namaz (prayer)at mosques  After the prayer (namaz)  people greet or embrace  each other and wish Eid Mubarak or Happy Eid. Sweets (Sawai) are prepared at home and Eidie (gifts) are given to the younger or those in need. Muslims also decorate their houses with twinkling lights.
One essential part of the festival is to give Zakat for charity to the poor people before Eid celebrations. It is compulsory for every Muslims and the head of the family must pay the amount of charity for all the needy family members or poor people. Thus during Ramadan, all Muslims continue their fast until the last day of Ramadan and pay the Zakat and Fitra before offering the Eid prayers
The Hindus as well as the Christians and the Sikhs also go and wish their Muslim friends a happy Eid or Eid Mubarak.
At present, there will be no prayer (namaz) at mosques or Eidgahs due to the corona virus and people will offer prayer (namaz) at their houses that helps in fight against corona virus.
Stay Home Stay Healthy Stay Safe