As we know there are large number of people died in all around the world due to corona virus. It is one of the great threat in all over the world including India. The Government take steps against the corona virus with few great decisions such as malls, schools, restaurants, are close in all over country up to March 31. There are several exams are cancelled and ask to companies to arrange work from home in which prevents the crowd in the cities and spreading of corona virus from human to human. The Government also ban on religious activities, marriage activities and public meetings to avoid crowd.
We should also support the government for preventing the spreading of corona virus in all the parts of the country by stay at home if not any emergency conditions, avoid crowd,, cancel marriage ceremony, travel in emergency condition and many more.  If you return from outside to home clean the hands with soap. If you are suffer from any symptoms of corona virus please contact the doctor immediately to prevent the spreading of corona virus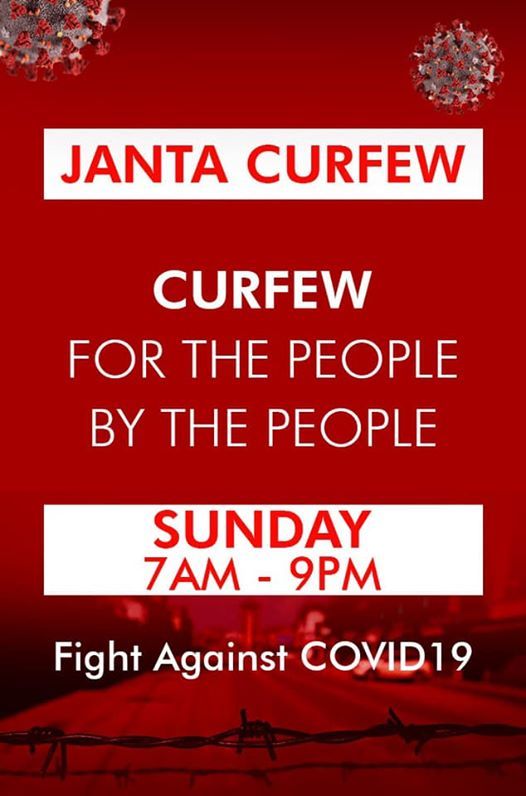 Our Prime Minister addressed to the nation and request to support the Janata Curfew on March 22, 2020. Thus our responsibility to support Janata Curfew and stay at home on this day to prevent the spreading of corona virus.. On this day all the rail, metro, and buses are cancelled in all over country.
We should participate to great support Janata Curfew on March 22, 2020 and helps government to preventing the spread of corona virus
I am support Janata Curfew on March 22, 2020 and participate the movement fight against corona virus.
Jai Hind