Mangoes – Mangoes are very popular as a juicy fruit during summer. Frooti, Maza and mangoshake are popular cold drinks which are made up of mangoes in the summer season. Raw mangoes are used in making pickles which are very popular.  It is also known as "King of the fruit". Mangoes are belonging to the flowering plant genus Mangifera which is cultivated mostly for their edible fruit.
The scientific name of mango is  Mangifera indica.  Mangoes are the national fruit of India, Pakistan, and the Philippines, and the national tree of Bangladesh. It is available in several varieties. Alphonso is the popular variety of mango due to rich in flavor, sweetness and very tasty.  Alphonso is available and mainly cultivated in the western part of India, including Ratnagiri and Raigad, and the Konkan region of India.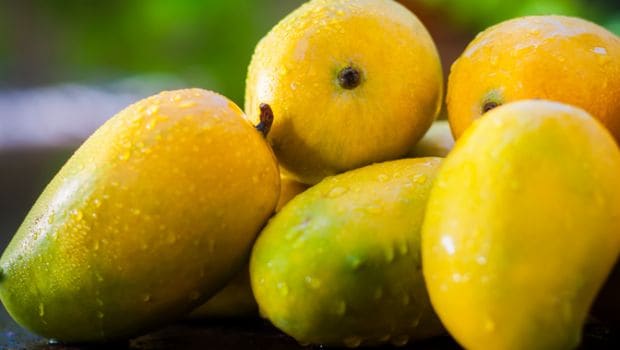 Benefits of mangoes – There are several benefits of mangoes which are discussed below
Reduce cholesterol – Mangoes are rich in vitamin C and pectin which is beneficial for decrease the bad LDL cholesterol in our body. Mangiferin is a compound which is present in mango lower the LDL cholesterol and enhances the good HDl cholesterol.
Lower blood pressure – Potassium are found in mango which helps in reduce blood pressure and hypertension.
Good for heart – As previous discussion, mango helps in reducing blood pressure and cholesterol which are beneficial for healthy heart.
Prevent cancer – There are several antioxidant compounds such as fisetin, gallic acid, quercetin, isoquercitrin, astragalin and methy gallate are present in mango which are helpful in preventing several types of cancers such as colon, breast, blood, and prostate cancers. Mango contains a great source of dietarty fiber known as pectin which prevents the cancer cell growth.
Improve immune system – There are large amount of vitamin C and vitamin A are present in mango which are beneficial to maintain healthy immune system.
Healthy eye – Great amount of vitamin A are found in mango which are helpful in improving vision, fights dry eyes and prevents night blindness.
Healthy brain – Mango contain a high level of vitamin B6 which are beneficial in healthy brain and keeping a healthy nervous system. It reduces stress and increases the mood. It also has glutamine acid which improves memory and concentration.
Loss in weight – It is rich in fibers which are used in burn extras calorie through improving the digestive function and helps in reducing the weight.
Promotes skin health – Mangoes contain vitamin A and vitamin C worked as a antioxidants which prevents acne and pimples. It is rich in antioxidants which also prevents skin ageing and pigmentation.
Healthy hair – Mangoes have vitamin E , increases the circulation of blood which maintain healthy hair.