Papaya – Papaya is very delicious and juicy fruit which is in orange in color. It contains vitamins and minerals which are necessary for our body. The papaya is helpful in improve digestion and also used in cooking in several non-veg dishes and veg dishes. This fruit is also consuming as a milkshake and in raw form.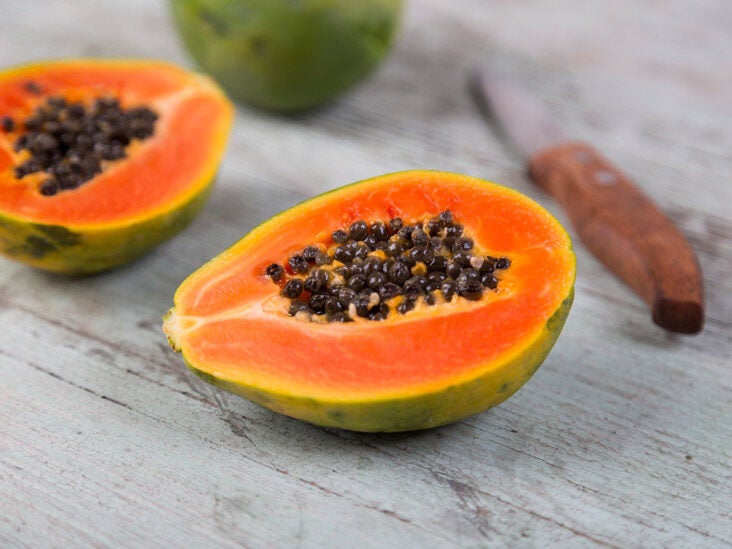 Papaya has an enzyme known as papain which is used in tenderize meat. The raw form of papaya also has enzymes which is helpful in the preparation of several nutritional dishes and chewing gums. That's why Christopher Columbus reportedly called it "fruit of the angels" due to it is very delicious fruit
Health benefits of Papaya – There are several health benefits of Papaya are given below
Improve digestion – The papain are present in papaya which are beneficial in improve digestion because papain enzyme breaking down proteins and make protein easier to digest. If the protein is not digested in our body it may cause several diseases such as arthritis, constipation, diabetes, high blood pressure, and many more diseases.
Reduce weight – Papayas are beneficial for obese people to reduce the weight due to low calories and have appetite-reducing effects. The fiber present in papaya make you feel appetite free with consuming low calorie and antioxidants burns the extra fat becomes fit and fine.
Beneficial for diabetes – As per research, the papaya is helpful in slow down the development of type-II diabetes. In this type of diabetes, the pancreas completely loses its ability to make and secrete insulin.
Fight cancer – The antioxidants are present in papaya which is beneficial for lower the risk of cancer and may be slow the development of cancer as per research.
Healthy heart – Papaya is very tasty fruit and is very beneficial for health. The vitamin C and vitamin A is found in papaya which are helpful in reduce cholesterol and lower the risk of heart attack.
Treats skin – The Face pack which is made up of papaya can use for skin soft and supple. The enzymes are in papaya which is beneficial to remove all traces of dry and flaky skin and hydrate it.
Decrease wrinkles – The peel of the papaya are helpful in reducing the symbols of aging. The enzymes are present in papaya remove dead cells of the skin. It also used in remove wrinkles and age spots. Papaya also contain antioxidants are helpful in soft skin from the harsh effects of sun.
Hair growth – Papaya contain folic acid which are helpful in healthy hair growth. The seeds of the papaya are used in decreases dandruff. Due to antifungal properties of the seeds of papaya are useful in controlling and preventing dandruff for strong hair.
Prevent Inflammation – Papayas are rich in carotenoids which can decrease inflammation in different parts of the body. Papayas contain vitamin A which are useful in reduce inflammation lungs due to it grows with smoking.
Improves immunity – As per research, papaya contain antioxidants which are helpful in improving the immunity of persons. It also beneficial for jaundice, bronchitis, kidney colic, and other illnesses.
Increase platelet count – Papaya are useful in increases the platelet count are those people who suffering from dengue fever.